Gestione, Online selling, Post-vendita
Marco Pericci /
Customer Care: definition and what it represents
Customer Care describes how a brand treats its customers. The goal is to create an emotional, long-term connection with the customer by ensuring they're satisfied and content with every interaction they have with your business.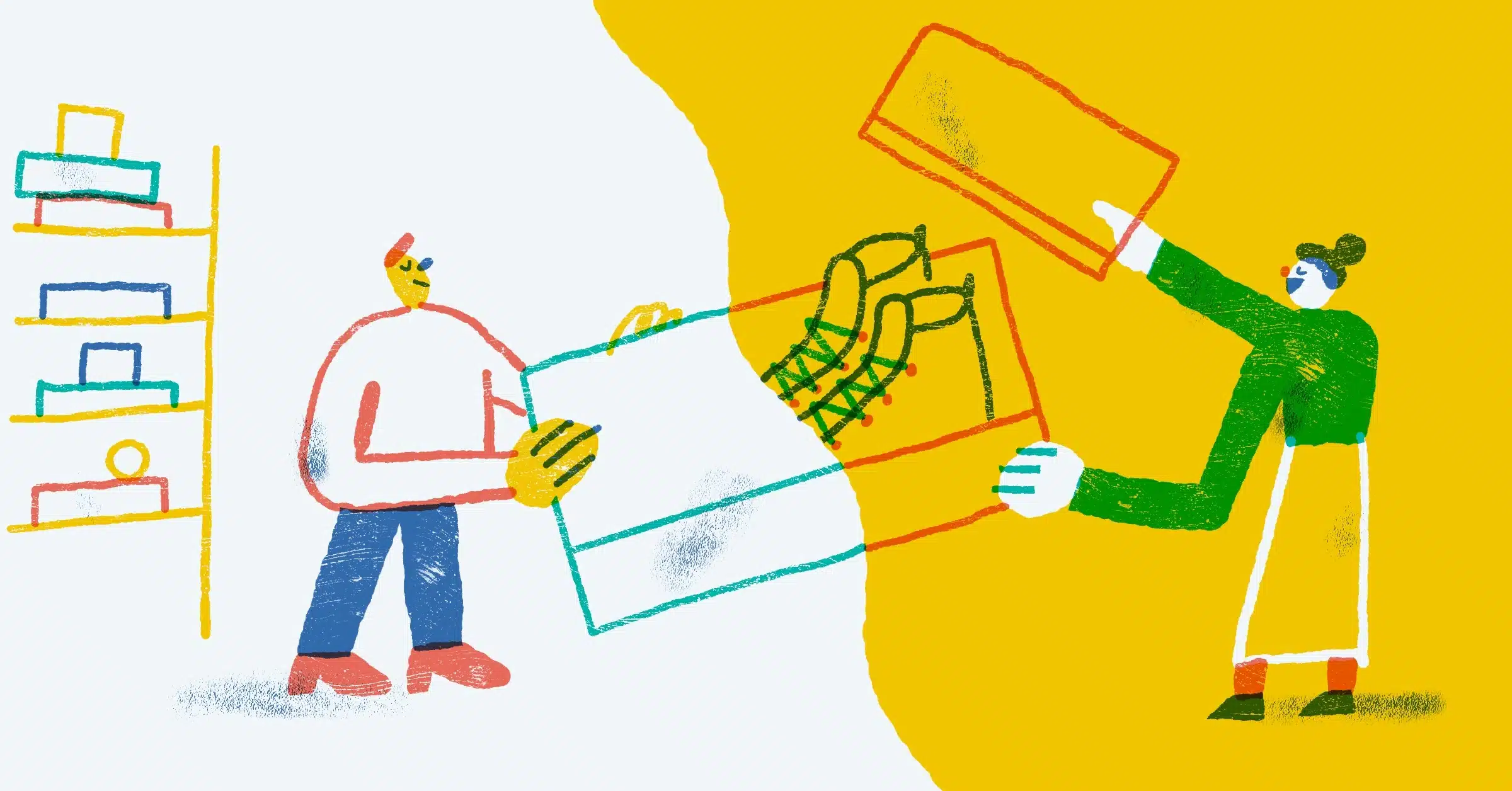 illustration of Nicola Giorgio
Picture this: You've been on a remote island for vacation the past three weeks, but the most dreaded part of the trip has arrived — the journey home. After checking your suitcase and boarding your flight, you realize that you forgot the garment bag with your most expensive (not to mention favorite) dresses and your husband's dress shirts at the hotel. Shucks!
The second the plane touches the ground, you turn on your phone to see three missed calls and seven unread text messages. The housekeeping team at the hotel has found your garment bag and have been trying to get ahold of you to confirm your address and send your clothes back to you… at no expense.
A few days later, you receive the garment bag in the mail. As you open the bag, you notice that everything has been washed and ironed, and the hotel chain even left you a handwritten note saying, "Hope we see you again next year! Don't hesitate to contact us if you need help booking the same room for the same dates in 2023."
Are Customer Care and Customer Service the same thing?
No — You've just experienced the difference between Customer Care and Customer Service. Customer Care is about much more than Customer Service; it contains every interaction customers have with your brand and includes everything you do to keep them happy throughout the entire process, from the moment of purchase to the garment bag's trip home in this case.
Boost your e-commerce, one conversation at a time
Since you came here for the full lowdown, let's get into what Customer Care is, the ways it distinguishes itself from Customer Service, and a few tricks to providing stellar Customer Care so you can see how much of a difference it makes to the customer.
The difference between Customer Care and Customer Service
Customer Care distinguishes itself from Customer Service in many ways. Customer Service deals primarily with solving problems and offering support. Typically, the customer/user initiates the first interaction and is seeking help, answers and assistance, meaning Customer Service Representatives (CSRs) must have an in-depth knowledge of the product or service they are providing as well as the company's policies and processes. The main duties of a CSR agent are to quickly resolve issues and ensure customer satisfaction, which requires a thorough understanding of everything from listing product information to fixing technical glitches. CSRs are usually empathetic and effective communicators, and the solutions they offer to problems are typically quick fixes.
What is the purpose of Customer Care?
Unlike Customer Service, Customer Care goes above and beyond solving problems by taking a proactive approach. Specifically, Customer Care agents initiate the first point of contact by reaching out to the customer to ask if there's anything they can do to assist the user/customer. By contacting the customer first, actively listening to their problem and/or needs, understanding them and showing you truly care about them, you can prevent and solve problems at the onset instead of waiting for customers to run into issues. The main goal is to provide an outstanding service by creating a positive relationship with customers that generates fidelity and builds trust.
Customer Care describes the relationship between a brand and its customers, specifically how the customers are treated. When done correctly, it creates an emotional bond with customers and can actually help prevent the problems that Customer Service is responsible for fixing. This is typically done via check-ins, follow-ups and providing additional services, benefits, or useful tips. Furthermore, when you focus on treating customers well, it'll become easier to generate loyalty, provide support, and ensure that your customers are satisfied; in turn, gaining and maintaining even more users/customers.
What are the most important rules to follow when it comes to customer care?
The keys to Customer Care and Customer Service are the same and can be remembered by following the four P's: Personal, professionalism, patience and people-oriented. One of the easiest ways to create a positive shopping experience is to personalize it, for example by crafting thoughtful, customized responses. The most valuable customers are ones who are loyal, since they're probably some of the highest spenders and they're more likely to spread word-of-mouth marketing. It's also important to be patient when interacting with potential customers and to engage with them in a polite, polished and professional manner. Lastly, never forget that customers are people too; the easiest way to generate positive buzz is to impress your customers by providing service that exceeds their expectations.
What is good Customer Care?
According to the rules of Customer Care, there's no one-size-fits-all solution, but you should always exceed expectations to establish an emotional bond that shows you care about your customers. If it shows, they may even speak positively about your brand and contribute to the growth of your business.
The conversation flow that'll make your e-commerce grow
Now that you have the facts, it's time to see for yourself how isendu turns every conversation into a positive review or new sale. Since isendu is constantly seeking to improve customer retention and satisfaction, our conversational marketing tool helps brands build an emotional connection with customers. To deepen this relationship even further, e-commerce can automate the experience to offer an even more personalized service and gain reviews on reviews. We guarantee you'll have a breakthrough, when you use isendu.
Let's finish with a quiz to make sure you fully understand the difference between Customer Service and Customer Care:
If a customer has a problem with your product or service, whose job is it to fix the problem?
Which department is responsible for the customer's long-term relationship with your brand?
And lastly, is Customer Care based on a reactive or proactive approach?
Treat yourself to the best gift of all by joining isendu.