E-commerce marketing, Crescita
Marco Pericci /
The best strategies to optimize your e-commerce checkout
If selling online is a marathon, the e-commerce checkout page is the last mile before the finish line. This is the crucial step when the stakes are high and you make the difference between a sale almost made – and then lost! – and a sale made.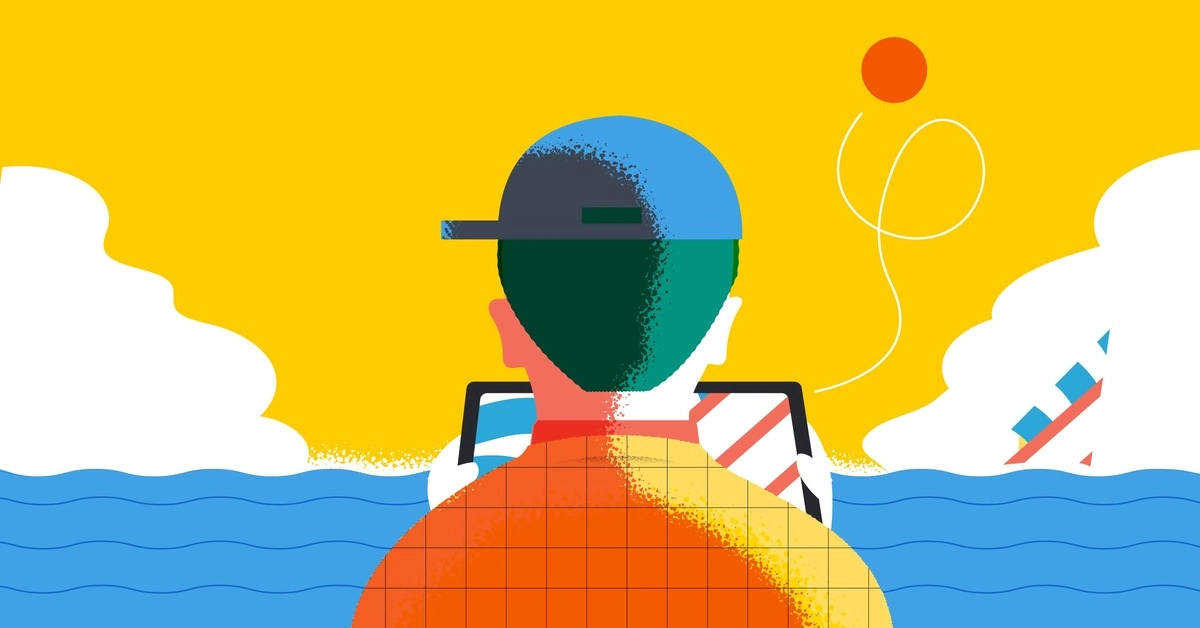 illustration of Francesco Zorzi
Every e-commerce site should have an optimized checkout experience strategy in place to avoid undermining the marketing efforts that led the customer to the checkout page. But this fundamental step of the purchase funnel is often neglected or little considered. We might tend to think that customers who add items to the cart will immediately proceed to payment. Nothing could be further from the truth: according to the latest research customers abandon almost 70% of e-commerce carts before concluding the purchase.
In this post, we'll look at some of the fundamentals of an e-commerce checkout that works and give some practical ideas to help you evaluate your store's checkout experience and change it, if necessary. We'll also show you some of the best strategies to increase the conversion rate at checkout and reduce cart abandonment by your customers, and so increase sales.
E-commerce checkout: what it is and why it matters
The e-commerce checkout is the moment when customers finalize the purchase of the products they have added to the cart and pay for the order. Generally, it is organized in a page where customers enter their personal data, shipping information and payment details, and is the final step of the purchase procedure of an online store. This is a crucial step, because the moment when most carts are abandoned is precisely during checkout.
The reasons are many: technical difficulties in finalizing the order, hidden costs and shipping times that are too long and can only be calculated at checkout are among the most frequent reasons for cart abandonment during e-commerce checkouts.
This means that designing a smooth, efficient, and pleasant to use e-commerce checkout experience is an essential strategy to reduce your cart abandonment rate and increase your store's conversion rate. Let's see how to do this.
The features of a perfect checkout
Do you want to know the secrets of having an e-commerce checkout that works? Let's look together at the features and best practices to design an e-commerce checkout that increases conversions.
Make it optional to create an account or customer login
Even though collecting your buyers' data is important for turning them into regular customers and incentivize recurring sales, making account registration or login mandatory might discourage shoppers who want to complete their order quickly or who don't feel the need to create a profile on your online store. If you offer a guest checkout option or only ask customers to register after completing their order so they can speed up future purchases, you can remove barriers to buying and give them a smooth, frictionless checkout experience.
All you'll need from buyers is their basic info, shipping information, and email address, which you can still use later to reach customers (but always remember to ask for their consent to send marketing communications by email.)
Get rid of hidden costs
Have you ever added items to your cart and then gotten to the checkout page to discover a whole set of unexpected or hidden costs? If you have, then there's a good chance you decided to abandon the purchase or gave it serious thought before going forward. Make sure that the e-commerce checkout page includes all the costs that your customers will have such as shipping costs or any taxes for international sales, to avoid unpleasant surprises.
Optimize your checkout for mobile devices
In 2021, it is estimated that almost 73% of all online purchases were made by mobile devices. Your e-commerce checkout should be optimized to work well on smartphones, tablets, and other portable devices. If you have chosen to open your online store with a , you won't have to worry about this, as most online stores designed with these solutions have a responsive design that works well on any type of device. Still, remember to personally test your mobile checkout to find any sticking points or difficulty in use before customers do.
Offer a variety of payment methods
As a merchant, one of the worst situations you can find yourself in is losing a sale because the customer doesn't know how to pay. Be sure to offer multiple payment methods on your e-commerce checkout page to allow customers to pay with their preferred payment method. Remember the increasingly rare, but far from extinct. option of payment by cash on delivery, which some research shows continues to be used byß
Reassure customers about transaction security
Online transaction security is paramount. Customers who have never purchased from your store may need some extra reassurance to proceed with the order without concern. Show badges and logos of brands that ensure security in payments on your e-commerce checkout page so that your buyers feel comfortable entering their payment card details and completing the order.
Enable notifications for real-time fill errors
When it comes to filling out the checkout form by entering personal data or shipping details, some fields can easily be left empty and hold up the entire process. Implement a system that alerts customers in real time about fill errors, for instance by turning red the field left blank or typed incorrectly, to avoid an annoying error notification that makes the customer have to go back and fill out the entire form from the beginning.
Show the progress of the checkout process
Whether your e-commerce checkout uses a single-page or multi-page design until the order is complete, try to give your shoppers a step-by-step visual path to help them understand how many more steps are needed to complete the checkout process.
Let customers save their cart
It might happen that a customer decides to stop the checkout process and resume it later. Be sure to offer your customers an option to save the cart with the items they have added or, even better, implement a function on your e-commerce that automatically saves the cart to allow customers to return to it when they feel ready to complete the checkout process.
How to optimize a checkout's conversion rate
Now that we've seen what the elements of an effective e-commerce checkout are, let's see how to implement them to optimize your online store's conversion rate.
First, you should understand how to calculate the e-commerce checkout abandonment rate using the following formula:
1 – (# of completed orders / # of checkouts started) x 100.
When interpreting the numbers, take into account that the average cart abandonment rate varies according to the product category or the type of product: for example, clothing has an average cart abandonment rate of 40%, while tech products have an average cart abandonment rate of 18%. This difference is due to factors such as the motivations behind the purchase, actual need or likelihood that the product will have to be returned because it is not suitable.
Regardless, there are a number of strategies and practices to put in place to reduce the cart abandonment rate and increase the conversion rate of a checkout:
Create a sense of urgency and scarcity – The concepts of urgency and scarcity applied to retail try to push customers to complete a purchase in order "to avoid missing something". Try adding a countdown that tells the customer the most time allowed to complete the purchase once they reach the checkout page, or a counter to show in real time the availability of the item in stock and incentivize the customer to conclude the order while it is still available.
Give customers all the information they need – If they have reached the checkout page, they have likely already found the answers to their doubts to complete the purchase without worries. Go even further by implementing a FAQ section at checkout (e.g., including your return management policy) and try to reassure customers who might change their minds at the last minute.
Create an easy, intuitive checkout experience – Make sure the checkout flow is clear, simple, and intuitive. People often buy a product to solve a problem. Avoid creating new ones right when they are completing the purchase.
Give real-time support – Clearly show your contact details on the e-commerce checkout page or, better yet, offer real-time support by live chat. This lets customers resolve their doubts, clear up any concerns that are keeping them from making the purchase and get all the reassurance they need to finalize the checkout without worries. An interesting idea might be to activate the chat in real time only after a certain period of inactivity during checkout, to find those customers who are having second thoughts or technical difficulties with the purchase procedure.
How to reduce cart abandonment rate
If you've put in place these strategies to optimize your e-commerce checkout but your customers keep abandoning their cart before placing their orders, here are some tactics to implement to reduce your online store's cart abandonment rate:
Take advantage of email marketing to recover abandoned carts – The first tip to reducing the cart abandonment rate is to get in touch with those customers who have not concluded the order with a transactional email. Consider it a reminder to people that their items are saved to their cart and ready to be purchased with a click. This type of email works best if sent 24-48 hours after the potential customer has abandoned the cart when their purchase intention is still strong.
Incentivize the order's completion with a special discount – If the first tactic did not work, the customer may have had second thoughts or doesn't yet feel ready to conclude the purchase. Try to convince them by offering them a limited-time discount code on the items already in the cart to create a sense of urgency and push them to finalize the checkout. The customers will perceive this offer as unrepeatable and personalized, and since they were already considering making the purchase, they won't want to miss this chance to save.
Develop a retargeting strategy – Finally, if those techniques to reduce the cart abandonment rate have not been effective, you can try retargeting with Google Ads or on social media. The goal of this remarketing strategy is to find those customers who have added products to the cart without completing the order and who have not returned to visit your online store. By showing targeted advertising, customers will remember your brand and return to consider buying from you. An old marketing adage says that "people need to see an advertisement seven times before completing a purchase," but now we have the chance of having it seen again by "the right people".
Ideas for creating the perfect checkout page
To create a checkout page for e-commerce that works, you have to focus on a single concept: simplicity! The best checkout pages are those that offer a clean, smooth browsing experience, opting for a minimalist, practical design that leaves no room for distractions. Consider designing an e-commerce checkout on a single page to allow customers to always keep an eye on all the information. This limits those annoying situations when customers are forced to go back because they have entered some wrong data.
Among payment methods, be sure to offer customers fast checkout options, such as PayPal, Apple Pay, Google Pay or Amazon Pay, which allow buyers to pay safely through a payment method they already know and use with confidence. The major advantage of these tools is that they speed up the entire checkout process because the data is already saved by third-party managers and your customers will not have to enter it manually.
Finally, once the payment has been made, treat your customer to a thank you page that includes a summary of the order and all the next steps before receiving the package at home. You can also take advantage of this opportunity to encourage cross-selling or upselling, showing a series of items superior or complementary to the product purchased, which buyers could consider for their next order.
3 tips for a GDPR-proof checkout
The design of an e-commerce checkout inevitably raises another issue to which close attention should be paid: managing the users' personal data in compliance with privacy regulations, such as the GDPR (General Data Protection Regulation), the general data protection regulation in force within the European Union. At the time of checkout, your online store will gather a significant amount of personal data from your users, which you must manage respecting all relevant requirements. Here are three practical tips to avoid being caught off guard and getting fined:
1. Get a complete, transparent privacy policy. Privacy policies are essential for e-commerce businesses to sell online. Its purpose is to inform the customer about the management of the processing of their personal data. According to the GDPR, it has to contain specific details, including the name of the person responsible for the protection of personal data, the data controller (generally the company owner), the purpose of the data processing, what data are collected, any third parties to whom the data are communicated and the data retention times. . In addition, in the privacy policy, you must specify that users have the right to request the deletion of data and to object to its processing for commercial purposes.
2. Remember to have a cookie policy: cookies are text strings that are installed on users' devices during navigation. Their main function is to "track" the user's behavior on the site. The use of cookies is regulated by the ePrivacy Directive, also known as the Cookie Law. There are different types of cookies, depending on the purposes for collecting them, including technical cookies, profiling cookies, analytical cookies, first-party cookies and third-party cookies. If you are planning to do remarketing or retargeting campaigns, you will need to ask the user for consent to install profiling cookies. You will have to enter all this information in the cookie policy, which explains the purposes of the installed cookies. Remember that without authorization from the user, you will not be able to try to find them once they leave the pages of your online store.
3. Ask customers to accept the terms and conditions at checkout. Before letting them conclude the purchase, make sure they have accepted the consent to the processing of personal data and the terms and conditions of your online store through checkboxes that include a link to read the documents.
Best examples of checkouts to inspire you
To wrap up, let's take a look at some of the best e-commerce checkouts that could inspire you in developing your shopping experience.
Let's start with Nike, one of the world's most famous sports brands, which has designed a clean, minimal, and distraction-free checkout page, giving customers the chance to proceed to the purchase by entering basic information and immediately going on to enter payment details. In addition to the item price, the checkout page gives an estimate of shipping costs to avoid unpleasant surprises at checkout.
Zalando is one of the world's leading apparel retailers. It has a block checkout page featuring minimal design and clear information showing order content, estimated delivery times, accepted payment methods and a summary of costs.
Then there's Amazon, which has a checkout experience that seems "disconnected" from the rest of the site but which includes all the information that customers need in a single easy-to-use page: shipping address, payment method and delivery times, as well as a practical side box that summarizes the total costs of the order.
As you may have noticed, the common thread linking three e-commerce checkout experiences is simplicity and ease of access to the information that counts: what, how and how much. These are the three elements that your customers expect to review a final time before clicking the all-important "Buy Now" button that confirms the success of your sale.
Now you can focus on order shipping and customer retention to turn occasional customers into loyal ones. You can master both of these things by using an integrated platform for managing shipments and after-sales strategies, one just like isendu, which lets to automate your online store's shipping process and cultivate customer relationships with convenient transactional email management features, gathering feedback, and tracking your customers' shopping habits to take your business's growth up a notch.