Marco Pericci /
SEO for e-commerce: how to optimize and improve the SEO of your store
If you own an e-commerce site and you're wondering, "How can potential customers find me online?" or you simply want to improve the visibility of your online store on search engines, you have one possibility: to apply SEO for e-commerce.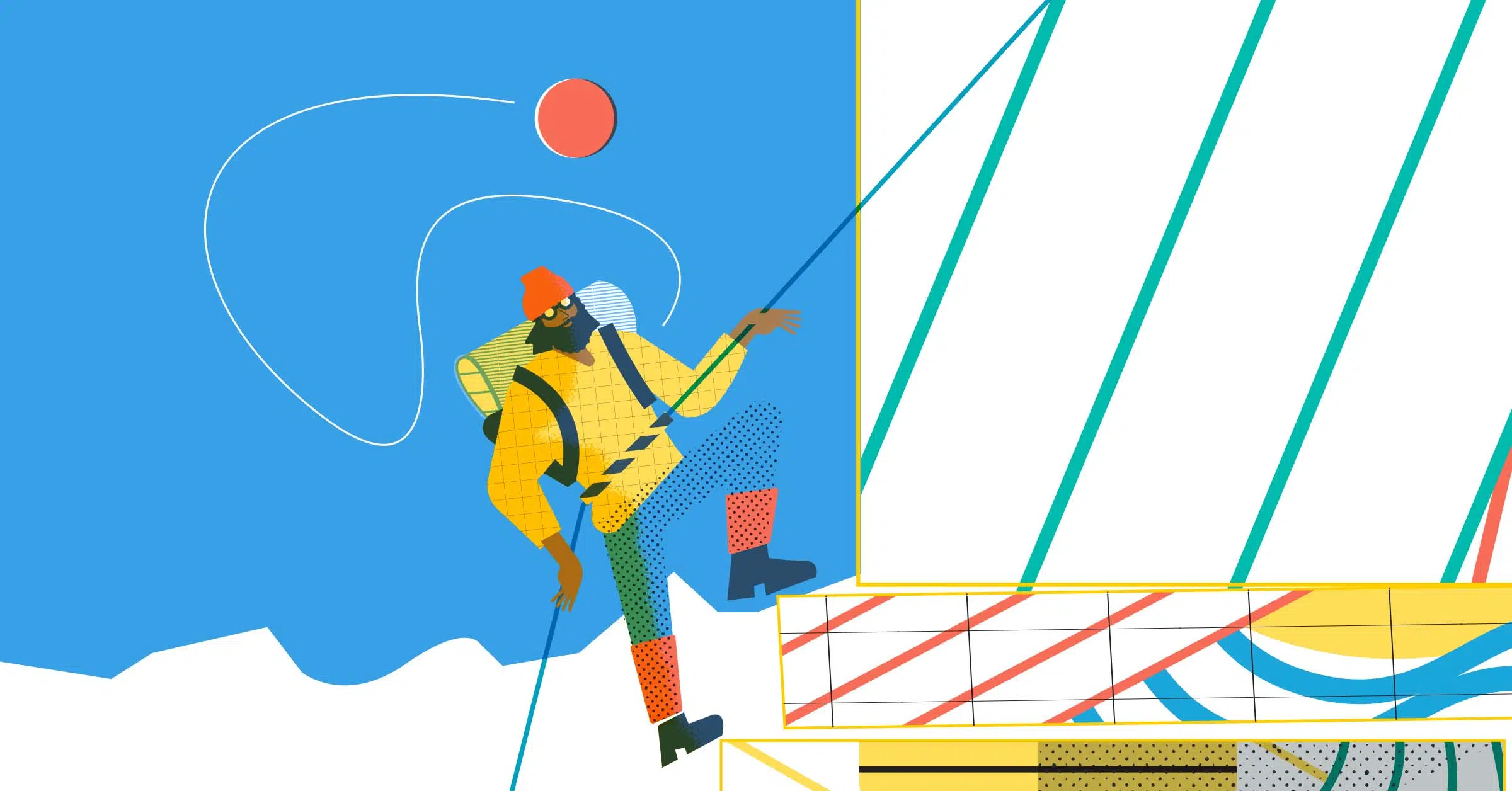 illustration of Francesco Zorzi
When we talk about SEO (Search Engine Optimization), we mean the set of strategies used to optimize a website by positioning it among the top positions on the Search Engine Results Page (also called SERP) for specific keywords.
But be careful; in niche sectors with little conscious demand or ultra-competitive sectors where Amazon, eBay or other big names in electronic commerce are present, it's necessary to choose broader marketing strategies.
To help you gain a better understanding on the subject, we have prepared a SEO guide for e-commerce. This guide is aimed to aid entrepreneurs taking their first steps independently as well as those eager to increase traffic to sell more products online.
Why is SEO important for e-commerce sites?
Following this, you will find a list of actions to improve the positioning of your e-commerce. However, before continuing, let's try to clarify once and for all why SEO is so important to online selling sites.
When we use a search engine like Google, we are using a platform whose operation depends on a very complex algorithm and whose secrets are impossible to uncover. However, one thing is certain; regardless of which search engine we use, it's designed to meet the user's needs.
All this constitutes a real prerogative for those who work on the web, and it's impossible not to take into account. This is why SEO was born. In fact, this discipline bases its roots on the users' search intentions, specifically the reason why a particular person is pushed to go to Google and type that particular query (set of words humans use to query search engines).
From that query, the keywords with which those involved in SEO design their own strategy are extracted, offering the user the best solution to their problem.
Having said that, adopting a good keyword strategy serves to ensure that users are able to see your website as a virtual place that will satisfy their needs and, in the case of e-commerce, help them buy what they need.
However, an effective and powerful SEO marketing plan for e-commerce presents a very complex structure and a long list of factors to take into account. So let's see how to structure it.
How to optimize SEO for e-commerce: keyword research
The first step to optimize your e-commerce from a SEO point of view is to search for the right keywords. The keyword research of an e-commerce is fundamental to construct a website that generates conversions.
Learning to select the right keywords is a skill that can only be acquired through experience and continuous testing. However, we will share some fundamental pointers that will help you learn how to navigate the complex universe of keywords.
As for search tools, today there are many on the market and almost all of them require a form of payment. However, before drawing up a list of the most used keywords, I want to give you some ideas to begin your search starting from totally free tools that should absolutely not be underestimated.
The first of these is Amazon. Once you enter the homepage of this marketplace and try to search for a product (for example AA batteries), you will notice that upon typing the word in the search bar, the software will show you a long list of suggestions for related products.
This method of cross-selling absolutely must be taken into consideration when it comes to the architecture of your website because it represents very targeted words that correspond to what in marketing is called the long tail. The long tail strategy helps you try to position yourself with words that have a lower search volume, rather than opting for terms that are much more difficult to compete with.
In addition to offering product recommendations, Amazon is a powerful tool when it comes to optimizing category pages. In fact, when looking for a given object, this platform also illustrates the product category under which each element is positioned. This indication can be a fundamental guide to help you define the sections of your e-commerce.
Another totally free software is Google ADS. The Google-owned keyword planning tool was created for suggesting the right keywords to show in your ads.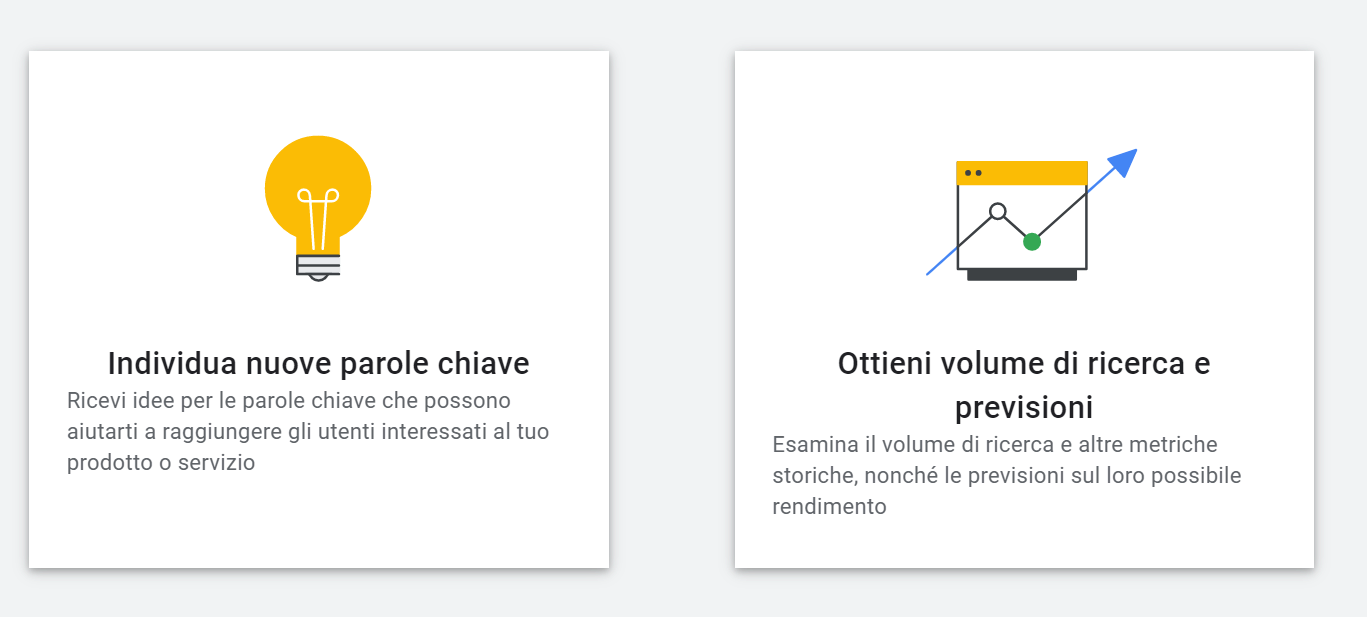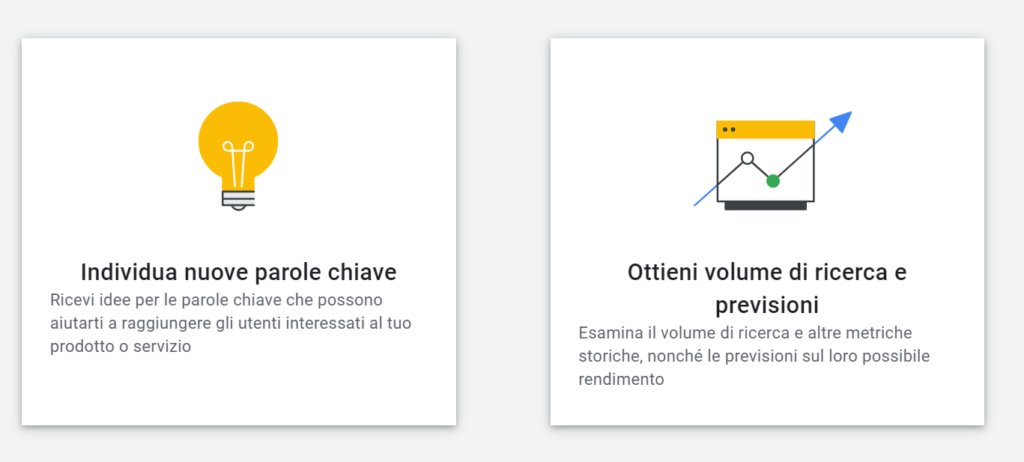 This tool gives you access to hundreds of keywords related to your sector. The only "downside" is that the exact number of monthly average searches for each keyword will be hidden if you do not have any active ADS campaigns.
Now, let's recall some of the most used paid or freemium tools:
SEOZoom;
Semrush;
Ubersuggest;
AnswerThePublic.
Once you have obtained a list of keywords, it's time to move on to the next step: which words to choose and why. Start skimming the SERP using three key principles as guidance:
The search volume: this criterion is perhaps the most important to select the words to be included on your own pages. A higher volume indicates the frequency with which that term is searched more, but also that it will be more difficult to compete for that particular word. The solution is to try to insert terms that generate both high volume in addition to words that are in much less demand, so you will be able to attract a greater slice of users.
The appropriateness of the word: it doesn't matter how high the volume of a word is if it has nothing to do with what you sell. When selecting keywords, they must be in line with your target users, otherwise it will be very difficult to turn the user into a customer.
Competitiveness: as we have already anticipated in the search volume, always check the level of competitiveness for a particular keyword: the higher it is, the more difficult it will be to position yourself with that term.
How to optimize the architecture of your e-commerce website
The structure of your website is data of great importance from the SEO point of view, and this applies to any type of website, but specifically for e-commerce. Why?
When creating an online store, the user must be able to easily get to the page where they can buy the product that interests them. Very large e-commerce sites can have many category pages and, if the website isn't well-structured, the user could "get lost" in this maze, and, in despair, instinctively decide to leave immediately and choose to consult your competitor's website.
This is why it's important not to underestimate the optimization of your e-commerce. Your website absolutely must have a clear and easy-to-follow structure. Just follow two simple rules:
Make sure that your website has a logical structure and that it's easy for the user to navigate.
Keep each page to no more than 2 or 3 clicks from the homepage.


On-page SEO for e-commerce websites
Once you have outlined the architecture of your site, it's time to optimize e-commerce by trying to better position it on the category pages for that product. This part is commonly referred to as technical SEO for e-commerce, and it allows you to position yourself optimally in the results of Google or other search engines.
In this strategic work phase, the so-called Tag Title and Tag Description come into play.
With Tag Title, we mean the HTML code that specifies the title of a certain web page. Working on the title is extremely important for your site because this data allows you to frame the various pages.
The problems that most commonly arise when it comes to structuring the title pages of an e-commerce website are the quantity of product pages to be optimized and the specific name of the single item for sale.
In the first case, e-commerce must study the sentence well to try to attract a larger slice of users. The best strategy is to add the targeted keywords within the title (for example "on offer" or "cheap") in order to make the most of long tail marketing.
However, in the second case, when it comes to distinguishing products that are similar to each other, it's necessary to look for terms that can highlight the slightest difference between items for sale. This is the only way the user can be truly satisfied with the search results.
Instead, when we talk about Tag Description, we mean a concise description of the content on the page. It has an indirect influence on SEO strategies, and in order to be considered a good description, it must be:
brief (around 155-160 characters)
descriptive
add value to the product it talks about
describe the problem the product is going to solve
How to optimize product sheets
Now we will touch on a topic that is extremely important to help one's product or service stand out from the crowd. We are talking about the product sheet.
By examining the product sheets on the various e-commerce sites, you can see that the description of items for sale is a simple and banal repetition of what appears in the manufacturer's catalogs.
However, pursuing this modus operandi (method of working) will not bring any added value to your page and the search engine will simply result in duplicated content.
To stand out, you must aim for a SEO strategy designed specifically for product sheets and, similar to the category pages, this also must be studied to perfection. There are some fundamental rules that must be taken into consideration:
create original content (don't copy the description from another site)
include the keywords in a natural way so that reading is simple and smooth
create a speaking URL that clearly describes the content on the page
vary the keywords by inserting synonyms
split the text into paragraphs and highlight key concepts with bold fonts and bulleted lists
use a tone of voice that reflects your brand
How to write e-commerce product sheets
The above is certainly important, but when the sale of something is at stake and customers need a push to purchase, it's important to focus on a description that is as comprehensive as possible.
In fact, the content present in the product sheet is comparable to a seller's description, who tries to sell his items as the best on the market.
To convince the prospective buyer, the seller must present their products for sale as different and better compared to competitors, meaning their description must be persuasive and convincing.
Translating what has been said into an e-commerce SEO strategy means listing the specific characteristics of the product in a text and ensuring the user that your product offers the best possible solution to their problem.
Also, don't forget to attach multimedia elements, such as photos or videos to the description; they have a notable impact on the credibility the consumer assigns to the seller and to the item.
How to index an e-commerce website
The term e-commerce indexing refers to the detection, tracking and insertion of a new website within the search engine database.
When a web page is indexed, it is added to the Google database for all the words it contains, which is why, before indexing a page on any search engine, it's good to check if the right keywords have been included.
To make sure that all the pages of your website are found by the user and to communicate the organization of your content to the search engine, you need to create the sitemap of the website, a file in XML format that lists and catalogs all the resources on your site.
To create it, you can rely on various plugs, such as the famous Yoast if you work with WordPress.
Creating this file is fundamental to make Google aware of your existence and to help users find you in the list on the SERP.
Final tips on optimizing an e-commerce
As you have read in the course of these lines, putting a website online, no matter how powerful and well-done, is not enough to let your potential customers find you and be the best in their eyes. To achieve this, it's necessary to implement precise SEO strategies for e-commerce.
Furthermore, even after identifying the ideal keywords and implementing a well-defined and navigable structure, it's essential to keep the Google SERP closely monitored because daily changes in the positioning of the sites could occur.
This is what a SEO specialist does. Furthermore, this professional pays attention to the user experience because it's only by getting the most out of every aspect that your e-commerce can really benefit.
In addition to optimization in terms of SEO, in order for your business to grow and receive good reviews, you must work on the actual efficiency of shipments. With isendu as a partner, your online store is guaranteed to take a real leap in quality regarding the service it provides.
Among the most popular with our customers are:
automation of the shipping process
saving time on the label-printing process
full control of orders via a dedicated dashboard
sending transactional emails for marketing
Get the most out of your online business by turning shipments from problems into business opportunities. Grow your e-commerce with isendu!